Eyebrow Loss
Unlike the loss of scalp hair, the loss of one's eyebrows is not viewed as a natural process and is, therefore, not cosmetically acceptable. Eyebrows may be lost for a variety of reasons including thyroid and other systemic diseases, alopecia areata, burns, tattoos, infections, repeated plucking, congenital inability to grow eyebrows and a genetic tendency for eyebrows to thin, or disappear, over time.
Eyebrow restoration is similar to other hair transplant procedures performed on the scalp, in that, for appropriate candidates, the transplanted hair is permanent. However, because eyebrows have their own unique attributes, eyebrow transplants differ from hair transplants in a number of important ways.
Gaps in Facial Hair
Alopecia areata is a fairly common form of hair loss in which the hair falls out in small coin-sized spots anywhere on the scalp. Severe forms rarely progress to complete hair loss. This is a medical, not a surgical problem, and it should not be treated with transplants unless it has remained stable for many years. Even then, the transplanted hair will likely fall out if the disease is reactivated.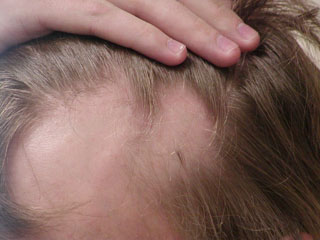 Scars
Various primary dermatologic diseases can affect the scalp, leading to hair loss due to scar formation. Treatment is aimed at medical control of the disease. If the disease remains under control for years, transplants can be considered for the scarred areas, but just like with alopecia areata, if the disease returns, that transplanted hair could be lost. On the contrary, scars due to injury or accident are nicely concealed through hair transplantation, and NuHart has had great success with these types of restoration procedures.
Hair Pulling
Rarely, patients will actually pull out their own hair. This condition is known as trichotillomania. In adults, it is usually seen in the setting of psychological problems such as anxiety, depression, or frank psychosis. Again, this can be treated with transplants, but it is not uncommon for patients to relapse and begin pulling out the hair again.
Concerned About Your Hair Loss Troubles?
These numbers speak for themselves!
Hair Restoration Patients