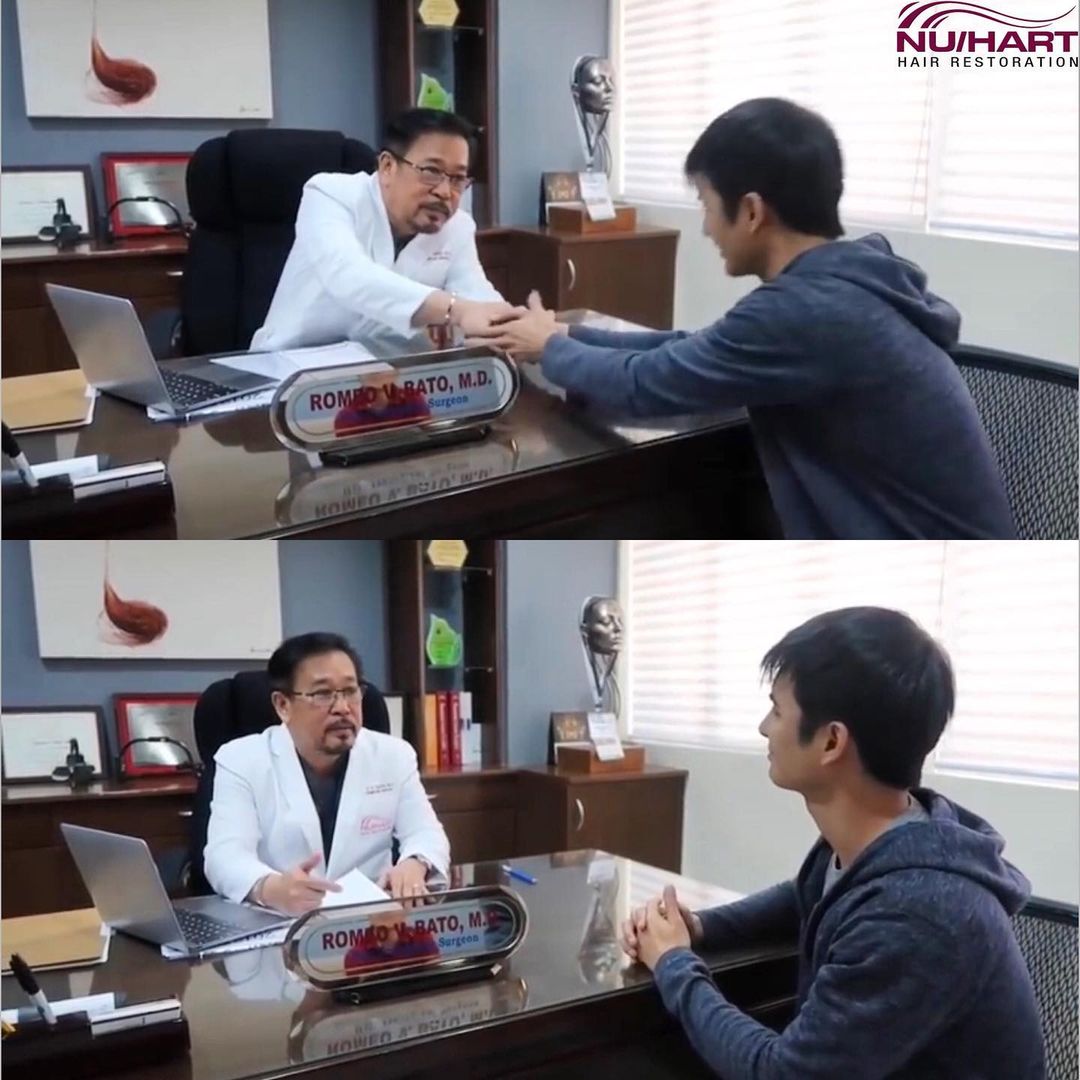 Hair loss consultation is offered for free by some hair transplant clinics in the Philippines, so you can just walk in and possibly meet with your doctors. As a patient, it is already uncomfortable for you that you are losing hair, and now you must reassure yourself of that sense of hope that your self-esteem would be restored. Ask about your doctor's credibility, the clinic's local and global footprint, as well as the risks and details on hair restoration and rehabilitation.
We know that such an endeavor can be very time-consuming so in this blog, we present 12 questions you can ask during your hair loss consultation.
1. What are the credentials of the clinic's chief hair restoration practitioner?
An obvious indication of the clinic's competency is having professionally trained and capable to perform hair restoration surgery. In your personal research, don't stop at what you see on the website. Ask for the details of your doctor's expertise. Take note of the minimum certifications possessed by your surgeon. Also their relevant experience as a hair restoration surgeon.
What kind of certification does he/she have? Where did he/she get this certification? How long has he/she been performing this kind of surgery? Does he/she have international certification in the field of surgery? This would show the reliability of your surgeon.
2. Where is the hair transplant clinic located?
Especially for visiting tourists planning to have their hair restoration surgery in the Philippines. It is important for them to know where the hair restoration and treatment clinics are located. Are they located in the middle of a central business district? Or at a makeshift suburban home-turned-clinic?
Nowadays, with the most available services and luxuries centered at the bustling side of the Metro. Setting foot in that huge market indicates strong demand for hair restoration surgery services. Also, medical tourists, most of the time have the means to stay at hotels. Located at the heart of the busy districts of the country. Setting up shop, then, allows for greater access to these potential clients.
3. How many clinics do they have? 
Aside from a significant quantity of hair restoration practitioners. A health institution's credibility can be assessed through the number of clinics it has. Furthermore, it would be a big plus if the clinic has a global presence. Apart from looking at the institution's tenure or length of operation. You should ask if the clinic has satellite branches locally and globally.
This shows a continuous focus on the part of the institution on establishing strong local and global impact in their practice. Garnering trust among its clients, thus allowing for an increase in demand for hair restoration services. Simply put, is the institution you are consulting at trustworthy?
4.    What is the range of hair loss treatment services provided by the clinic?
Once you get an idea of the tenure and extent of operations of the clinic. Look at the range of services it provides. Does it specialize in hair loss treatments and restoration services? Does it provide the said services as part of a bigger portfolio? If the clinic provides hair restoration, what kinds of services do they have available for clients? Hair transplant? Laser hair therapy?
More importantly, getting a feel of the service provider's range of available treatment services gives a strong sense of comfort. You would feel more reassured that they have a clear and broad understanding of the practice. In Addition, you would be well taken care of.
5. What can I expect during my hair loss consultation?
You know the clinic has an accessible branch in Metro Manila as well as in other parts of the world. So now you have a sense of reassurance about consulting with your surgeon. This time, level off expectations with your consultant. Ask about the significance of your free hair loss consultation. Clarify your initial understanding of hair loss restoration and rehabilitation.
Ask whether you would need to be initially assessed before treatment or you can already avail of treatment as you walk into the clinic. As a consumer, you would want to establish rapport with your service provider. Be on the same page regarding the matter at hand.  Most importantly, be reassured that your clinic will take good care of your hair.
6. How many hair loss treatment and restoration procedures have they performed?
Upon consulting, ask how much hair loss treatment and restoration procedures has their resident surgeon performed. Since the receipt of his license? Is he/she considered an expert in the practice?
Does he/she practice similar procedures at other similar institutions? How often is he called to perform hair loss treatment procedures? Knowing how much practice your surgeon has done on hair loss treatment shows the depth of the surgeon's mastery. Also, this gives you, the consumer, a sense of trust in your surgeon. In Addition, The confidence in undergoing the procedure and regaining your lost hair.
7. Are they capable of performing all related hair loss treatment and restoration procedures?
In addition to asking how many procedures the resident surgeon has done, also ask if they're aware. More importantly, capable of performing a number of related procedures on hair loss treatment and restoration. Is he capable of handling hair transplants in other parts of the body? Like body hair transplant, facial hair, eyebrows, and eyelash procedures?
This aspect of the inquiry serves to highlight the quality and depth of understanding of various hair loss treatment procedures. How versed the doctor is in each procedure. As a client, you would want to be assured that your service provider knows what they're providing.
8. Am I a good candidate for hair loss treatment?
As a consumer wanting to avail of hair loss treatment and restoration procedures. The first thing you would want to settle with your surgeon is whether you are qualified for such procedures or not. Given the many possible causes of hair loss, you would want to know whether you're a hair transplant candidate and your hair loss can still be resolved. You want to hear him say that it can be done. You will grow your hair again after the procedure. Because of this, you want a surgeon who can carefully assess and bring out the root cause of your hair loss problems. Give a sound assessment of whether you can have your hair loss treated.
9. Are there any risks and complications associated with my procedure?
As mentioned above, do your initial research as to what is involved in hair loss restoration treatments, especially hair transplant procedures. Again, you want to get the facts straight.
While you already have knowledge of the procedural details of each treatment, reassure yourself by inquiring if there are risks and possible complications that can arise from the treatment and what they mean with respect to each procedure. Ask them to give a clear picture of what can happen in the middle of the procedure.
10. Should there be any discomfort after the procedure, what's the best thing to do?
In relation to the previous point, knowing about the associated complications is one thing, but more importantly, asking how can these complications and side-effects be mitigated or even prevented from happening.
Ask about anesthetics and means of stopping the bleeding, as well as proper medication and supplementation to avoid encountering harmful side effects and complications from the procedure.
11. What are my options if I am dissatisfied with the results of my procedure?
You were already assessed and cleared to undergo hair loss treatment and restoration, gone to the clinic for the treatment, and done with the procedure, but there seems to be something amiss. You might feel there was not much hair that grew back, or the restoration of hair on your head was uneven. In such cases, you would want to go back to your surgeon and fix these details, of course without extra charge.
Ask what options you have as the patient when the treatment does not live up to your expectations. Do they give free post-treatment services? As a consumer, you want to feel protected in your transactions and make sure you get what you want out of your treatment.
12. Do you have before-and-after photos I can look at for each procedure and what results are reasonable for me?
Ultimately, as a patient of hair loss treatment, you want to feel that a significant transformation has occurred in your life. You would want to see yourself move from having less hair to restoring volume and life to your hair. They say the journey is more important than the destination, and as a patient, you want to feel the significance of that journey.
There's no other indication of this journey as before-and-after photos highlighting the changes the treatment made way for you. Before-and-after photos not only highlight the transformation the patient goes through but showcases also the institution's level of capability in treating hair loss and restoring not only the patient's lost hair but also bringing back his self-esteem and confidence. After your treatment, never ever forget to ask for before-and-after photos so you can take them as a souvenir of the treatment and have that renewed sense of confidence in yourself.
There are now ways to alleviate the personal and physical effects of hair loss. Understand what you are venturing into and refer to these 12 guide questions on your hair loss consultation and how it can make you feel better about yourself.